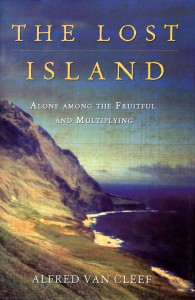 Translated into German and English
Reviewed in Die Zeit, The Economist and The Washington Post
Fourty pages included in German anthology Inselgeschichten, with island stories by Heinrich Heine, Primo Levi a.o.
The Lost Island
Alone Among the Fruitful and Multiplying
Translated from the Dutch by S.J. LeinbachMetropolitan Books, New York, 2004
Content
After the death of his father and a divorce from his wife, Alfred Van Cleef — the last descendant of a family of Dutch Jews — learns that he is unable to have children. Seeking the remotest spot on the planet, far from the gleefully reproducing couples of Amsterdam, Van Cleef picks a forbidding island (also called Amsterdam) in the Indian Ocean, one of the world's most isolated places.
Van Cleef anticipates a total escape from the sexual frenzy of humanity: Amsterdam's sole inhabitants are a group of thirty-six men. Yet in this stark natural environment, he encounters an actively mating society of albatrosses, rotifers, sea elephants, and fur seals — and most ironically, bdelloid rotifers, an all-female species able to reproduce entirely without the help of males.
With humor and insight, Van Cleef weaves geography, natural history, and biology into a touching story. Sometimes it takes a lost island to find a man.
Reviews
The Lost Island" is a moving story, funny and endearing at times, immensely sad and disturbing at others. One cannot help but feel for Mr Van Cleef and the profound distress that dogs him. The book also provides a wealth of information about the geography and history of the island, but it distinguishes itself above all as a touching piece on the meaning of human existence. The Economist
A hilarious and ultimately affecting book. The Seattle Times
A memoir of compelling honesty and emotional resonance. Booklist
Van Cleef's descriptions of the island are clever, but the real fun is the subtle ways in which he uses his dry sense of humor to lampoon French bureaucrats. Publishers Weekly
As sere and scoured as its locale, hard-fought and cleansing for author and reader alike, making for a companionable excursion into forlorness. Kirkus Reviews
Even as humans made their irrevocable changes to the island's ecology, the island negated their presence. Previous inhabitants have left almost no traces — a name carved in rock, a plaque affixed to a cliff from which a biologist once tumbled to his death. In this context, Van Cleef feels an ironic interest in his own insignificance. The Washington Post
In fascinating detail, Van Cleef describes the island's natural world–the sea, the wind, the barking of fur seals, the fragrance of the moss. However, these descriptions are secondary to Van Cleef's investigation into the nature of man, which he can finally contemplate, miles away from the influence of other human beings. A reading experience from far beyond the daily routine. Financial Times (German edition)