Nominated for the ICODO Award 2002
Nominated for the Tzum Award 2002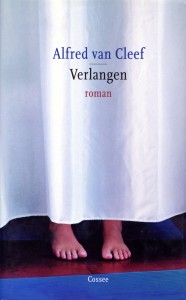 Longing
novel
Cossee, Amsterdam, 2002
Content
Albert Ossedrijver, a journalist in his forties, is obsessed with the wish of having a child. The Nazis have murdered almost all his Jewish relatives and Albert sees his unborn son as the only hope to pass his family name onto another generation.
Then he finds out that he is infertile and realizes that he himself will in fact be the last member of his family. He is so upset that he does not tell anything to his girlfriend Esther. The more uncertain his future seems, the more fascinated he gets by his family's history and he becomes determined to find out all about it.
He wonders through the old parts of Amsterdam in the hope of discovering pieces of his past, in particular the places that were important for his grandparents, who were killed in a concentration camp during World War II.
A thrilling search enrolls that brings Albert into unforeseen situations. However, he manages to cope with it all by never loosing his sense of humor, and he can always count on the support of his dearest friend. All of a sudden, Esther announces that she is pregnant and all Albert knows is that her child cannot be his.
Reviews
You never get the impression that this is but his first novel. This is what you call Writing.

De Volkskrant

Intelligent, gripping, touching, in parts witty and always excellently written.

Haarlems Dagblad

Longing is a human book about what it feels like to fail.

NIW