Chapter original book published in Germany and Bosnia
Chapter original book published in

De vrijheid verteld

(Freedom Told), an anthology dedicated to Amnesty International with stories by Primo Levi, Günther Grass a.o.
Continuation of

The Lost World of the Berberović Family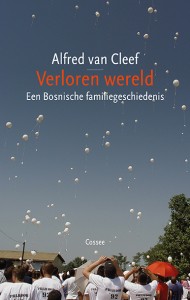 Lost world
A Bosnian Family History
Verloren wereld
Een Bosnische familiegeschiedenis
Nonfiction
Cossee Publishers, Amsterdam, 2014
Content
Lost World is a moving and exciting family saga, a document humain based on 'oral history'.
'A scenery of destruction and human failing', writes Alfred van Cleef of Republika Srpska, one of the two political entities that make up Bosnia and Herzegovina, following the war in former Yugoslavia. For some twenty years the author was close to a Bosnian family from that region, and in Lost World he records their trials and tribulations.
In 1993, Van Cleef met Hamdo Berberović, a Bosnian refugee living in the Netherlands, who had survived three Serbian-led concentration camps, including the notorious Omarska. Van Cleef had in-depth conversations with him and with his brothers Senad and Hilmija, winning their trust. He is now able to describe their experiences through their eyes.
Lost World is an important book, not least because the author was involved with the family at its centre for so many years. What does enduring so many atrocities do to people? Can they ever find a new way forward? Why did the most pacifist member of the family stay in Bosnia to fight for the unity of his country?
One of the most moving passages in the book begins when Hilmija's wife, who has ended up in Sweden, gives the author a letter for her husband. He takes it to the city of Travnik, where the situation is far from safe.
'Always be aware what kind of country you're in,' he is told. 'Here, the kalashnikov talks.' Nevertheless, Van Cleef manages to find Hilmija. The reader has already seen a great deal of killing and suffering and watched friends and colleagues imprison and mistreat each other. The humanity expressed in the letter brings home all the rising tension and profound emotions in the book.
In 2013 a survivor of the Omarska camp tells Van Cleef that 'a bad soul feels good amid evil'. Even as the ashes of the war in Bosnia still smoulder, new 'brother-shoots-brother wars' are going on elsewhere. Readers of this book will see reports of those wars in a new light. Lost World is a universal story about the futility of war and the resilience of human beings. After great sacrifices – their father kills himself – the Berberovic brothers become successful immigrants in Sweden and the Netherlands.
The descriptions are all the more harrowing because these matters are still unresolved.
Based on oral history, this account straddles the borderline between journalism and literature
Alfred van Cleef is a writer and journalist who for many years worked for NRC Handelsblad, including a stint as correspondent during the wars in the Balkans. His previous books include the novel Longing (2002) and The Hidden Order – A journey of exploration along the prime meridian (2010), which was chosen as the best travel story of the year in the Netherlands and won the German ITB Book Award 2013 as an outstanding travel book.
A relentless and overwhelming family saga.
De Volkskrant
An exciting and tragic true story, well written and told without excessive pathos or sentimentality.
NRC Handelsblad
Van Cleef reduces the war to painfully concrete proportions. An impressive account.
De Morgen
A remarkable book
The New Yorker
Verloren wereld
Een Bosnische familiegeschiedenis (2014)
336 pp. (105,240 words)
4,000 copies sold
Foreign rights
Cossee Publishers, Kerkstraat 361,
NL – 1017 HW Amsterdam,
t +31 20 528 99 11
molegraaf@cossee.com
http://www.uitgeverijcossee.nl/auteur/Alfred-van-Cleef-A20.php
For Turkish information click here.
The Dutch Foundation for Literature chose Lost World as one of the top 10 Dutch non-fiction books 2014.
For other translated titles by this author see http://www.letterenfonds.nl/nl/schrijver/57/alfred-van-cleef.